Go beyond the regular dusting, sweeping and mopping and perform the yearly spring cleaning.
Below we have prepared a spring cleaning checklist for each room of the house which can also be achieved within a day.
1. Bathroom – allocated time: 1 hour
Vacuum and wipe the walls and ceilings. Vacuum first, using the brush attachment, then wipe with an all-purpose cleaner. This is fine to use for painted walls. Don't forget to clean the wall when doing hair and makeup; it could be covered in hairspray and other cosmetic products.
Put all the throw rugs into a washing machine.
Clean the mirrors and the interior of windows. Using a microfiber cloth helps by not leaving lint.
Spray and soak shower walls, tubs, floors, and sinks. We recommend using rubbing cleaning agents into these areas and leaving it to soak for about fifteen to twenty minutes. Then rinse the area from the top down, starting with the showerhead. Repeat for the toilet, by beginning from the top of the tank to the rim, bowl and base.
Mop the floor. Wipe the floor with a water-soaked mop after allowing the cleanser to soak.
2. Bedrooms – allocated time: 2.5 hours
Vacuum and wipe walls and ceilings. Vacuum the floorboards and carpet.
Dust all surfaces. This action is important to remove allergens and dust mites.
Let the room breathe. A good airing will reduce the allergens and germs in mattresses, simply open the windows for a short period.
Use the washing machine. Put all sheets and covers in the wash. It's preferable to air dry them and then make the bed.
Cleaning window treatments.
Wash all mirrors and interiors of windows.
Shampoo or steam-clean carpets and area rugs. To save time and energy, we recommend home cleaning services Maryland or professional spring-cleaning businesses.
3. Kitchen – allocated time: 1.5 hours
Clean out the refrigerator and freezer.
Degrease cooking appliances. Hire a house cleaning services in Maryland to provide a regular deep clean of your oven and other kitchen appliances.
Wash all surfaces and cabinets. Prepare a solution of warm water and dishwashing liquid and wipe all surfaces to remove grease and other particles.
Sweep, vacuum and mop floors.
4. Living Room – allocated time: 2 hours
Vacuum and wipe walls and ceilings.
Wash the interiors of windows and window treatments.
Clean and dust appliances. Dust photos and ornaments. Clean under electronics such as television and speakers.
Clean the carpets.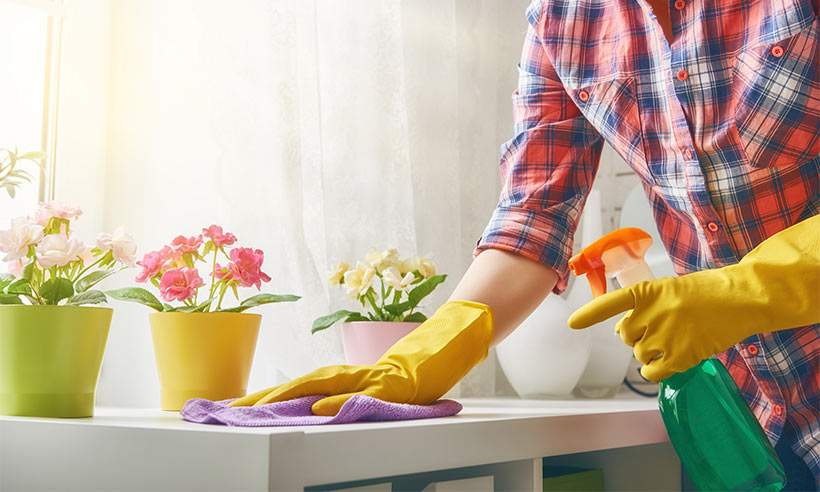 Home Cleaning Services Maryland
To assist with your home cleaning needs, Blanca Clean Services offers house, window, carpet, once off and spring cleaning services to areas in Ashburn, Leesburg, Sterling, Mclean, Herndon, Chantilly, Aldie, and all of Northern VA.
For more information and enquires contact Blanca Clean Services on 703-479-0485.