When you think about what you want your office space to look like, the number one thing on the list is probably going to be clean.
That's because a clean work environment is a healthy one and can make people feel more welcome.
However, getting a truly clean office space is easier said than done.
You have to consider all areas of the office that need to be cleaned, even the ones you don't immediately think about or notice. You also have to think about supplying items and organization and deep cleaning to keep illness away.
It's a hard job to do, especially if you need it done daily.
This is where looking for a professional office cleaning service comes into play and it can be overwhelming and frustrating.
Some companies will tell you whatever you want to hear without actually being able to deliver on their promises.
Others will be able to help you but not in a comprehensive way, only offering a few services and charging outrageous prices for add-ons.
So how do you know if a commercial cleaning company is right for you?
By asking them to check all the boxes on your comprehensive office cleaning checklist.
By asking a cleaning company to create a checklist of all the areas they will be servicing, you're giving them their first test at professionalism and expertise.
And if there's something on your checklist they can't check off, it might be time to think about whether or not they are the best choice for you and go with experienced and trusted cleaning professionals, like the ones here at Blanca Clean Services.
The Entryway
Your entryway and front door is the first thing customers see when they walk in. This means it's going to be their first impression of your business and the impression they make is going to decide if they stick around or leave and never come back.
Why is your first impression so important?
A positive first impression showcases to your customer that you are competent in your services and professional in your actions. You know how to dress up and dress up well, delivering a stellar service or product.
With some of the following cleaning actions, your entryway can sparkle and shine, leaving customers with a comfortable feeling of being welcomed and immediately starting to trust your business.
Your cleaning company should:
Clean all the windows and mirrors
Dust from floor to ceiling
Clean the upholstery
Perform floorcare as needed such as mopping and sweeping
Organize knick-knacks and entertainment items
Empty all waste
Wash all welcome mats and vacuum as needed, especially the carpets
The Cubicles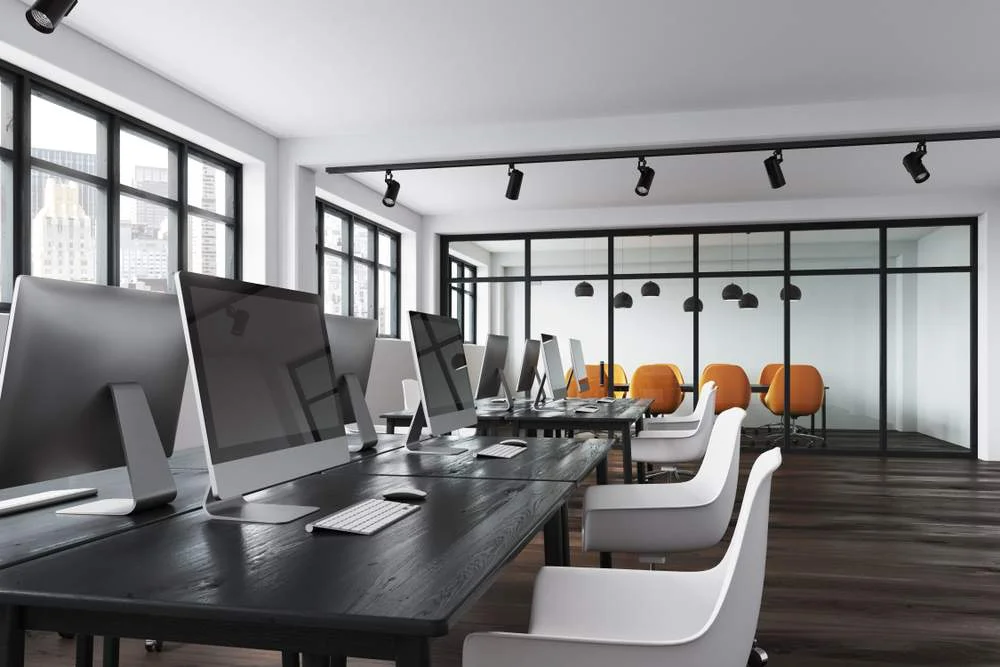 The cubicles of your office are where the most important aspects of your business occur. Your employees close deals, work with customers, and help your business grow.
Because of this, it's one of the main places that should be cleaned and wiped down from top to bottom.
A dirty work cubicle can not only lower your employees' motivation to work, but it can make them not want to come into work or work for you at all.
Your office cleaning services should:
Empty all waste
Organize small items without disturbing the space
Dust all surfaces, especially equipment
Vacuum/Clean the floors
Clean the upholstery
The Bathrooms
The bathrooms can be a scary place when you think about all the germs that live in there.
From the toilet seat to the sink faucet to the lightswitch, germs and bacteria can lurk in all sorts of places.
Your cleaning company should be able to truly deep clean your bathroom in a way that doesn't use harmful chemicals.
As an essential way to keep everyone in your space healthy, your bathroom should be cleaned daily for the max protection.
Your cleaning company should:
Empty all waste
Dust all surfaces
Restock all supplies
Clean/Maintain the floors
Scrub the toilet seats both inside and out
Wipe down the stalls
Disinfect every area at the end of the cleaning
The Break Room
Each employee does different things when they go to the break room. Some eat lunch, others grab a cup of coffee or watch a TV show.
Whatever it is they do, they deserve to do it in a clean and healthy space and what's not relaxing is stained upholstery and dirty coffee stains on the countertops.
When cleaning your breakroom your professional office cleaning service should:
Restock the supplies
Wipe down all countertops and touchpoints
Take out the trash
Scrub the sink and do the dishes
Organize the area
Wipe out and clean appliances
Disinfect all surface areas at the end
Deep Cleaning and Disinfection
The number one thing you need to have in your professional office cleaning service is some kind of disinfection service.
An office cleaning service without one isn't the kind that you want to work with.
Disinfection and sanitization are important for obvious reasons — they kill germs and bacteria.
For an office space, though, disinfection and sanitization are extra important because multiple people come through the space daily and leave their germs behind.
When one person in the office catches something, everyone else has a high chance of catching it, too. Once that happens, things can get out of hand quickly.
Your cleaning company should disinfect all the following high touch areas to best protect you, your employees, and your customers:
Trash cans
Light Switches
Doorknobs
Countertops
Bathroom items
Office equipment such as laptops and computers
How Blanca Clean Services Checks Those Boxes
Here at Blanca Clean Services we're all about you, the customer. Our process is focused on making sure your needs are met and providing you an affordable office cleaning service.
Our customers love working with us because we:
Keep lines of communication consistently open
Provide all of our own cleaning products that are EPA-approved
Make booking new cleaning services easy and straightforward
Hire only background-checked and trained cleaning professionals
Offer a 100 percent satisfaction guarantee
If for some reason you're unhappy with your service, we'll handle the issue within 24 hours for you, with no extra cost to you.
That's how dedicated we are to giving you a clean office space you love working in.
Request a Free Quote Today
If you're to work with a commercial cleaning company that knows how to truly clean an office, reach out to us today and request your free quote.
About Blanca Clean Services
Blanca Clean Services has been providing expert residential cleaning services in Ashburn, Leesburg, Sterling, Mclean, Herndon, Chantilly, Aldie, and all of Northern VA for many years. In that time we've established a reputation as the number one local provider.